[ad_1]

Neil Lane-sponsored proposals are as essential to the Bachelor franchise as disasters are to Grey's Anatomy. 
Rachel Lindsay suitor Peter Kraus was basically voted off the island for admitting that, yeah, it's hard to wrap your mind around committing to forever after just weeks of sporadic dating. And previous stars such as Juan Pablo Galavis and Brad Womack were crucified for refusing to get down on one knee as if it were a character flaw to not be 100 percent confident in what is, essentially, a brand new relationship. 
But, dare we argue, it's far, far worse to ask someone to make a lifelong commitment when you're only kinda sure you'd like to be celebrating your next birthday with them? 
That was more or less Hannah Ann Sluss' point when she railed now former fiancé Peter Weber for proposing in last week's Bachelor finale only to change his mind a scant two months later. "You took the most precious moment I could ever imagine away from me, because you selfishly just did not want me to walk away," she rightfully reprimanded him. 
And while sealing their happily ever with a ring is the done thing in Bachelor land, with no couple that chose to forgo an engagement yet to make it down the aisle, the odds are frankly pretty dismal anyway with just two Bachelor and six Bachelorettes still with the person they picked on final decision day. 
So why not give dating without the pressures of purportedly planning a wedding a try? 
Colton Underwood is out here trying to be the exception to the rule. When his frontrunner Cassie Randolph balked at the idea of accepting a proposal from someone she'd known just a few weeks, he agreed to throw out the standard playbook, telling his final rose recipient she need not agree to anything more than seeing where things could go. By the time their finale aired a year ago, he was referring to the grad student as his future wife and had already uprooted from Denver to be closer to her in L.A.
"We still have a lot of conversations to have and we have a lot of room to grow in our relationship, too," he explained to host Chris Harrison of their decision to move at a sensible pace atypical to Bachelor couples. "So we're enjoying dating right now."
And while history is against them, here's hoping they just might start a trend.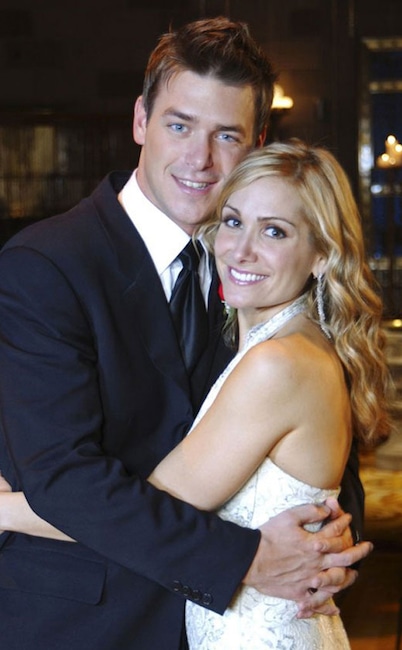 ABC
Jen Schefft & Jerry Ferris

Proving Bachelorettes are no more eager to enter into ill-conceived engagements than their male counterparts, Andrew Firestone's ex-fiancée flatly turned down Ferris' proposal during the show's live 2005 finale. 
Four years and one explanatory book—her 2007 tome Better Single Than Sorry—later, she turned a very successful blind date with businessman Joe Waterman into forever. The duo settled in Chicago, but moved back to Schefft's native Ohio in 2017 to raise daughters Mae, 9, and Charlotte, 7. "It was fun to be in the spotlight, but it was also very challenging in that I hated hearing what other people had to say about me," the marketing and public relations coordinator at NEOSkin Center noted to Cleveland Magazine. 
Ferris credits his brush with fame to leading him to wife of nine years, Natasha Goss. He connected with the hopeful actress while she was waitressing at West Hollywood spot Dominick's. Having recognized him, as she put it to Rochester newspaper Democrat and Chronicle, as "that hot guy from The Bachelorette," she sat him at a corner table and made her move. "If it wasn't for the show and for my friend asking me to go out and picking that restaurant," the dad of 5-year-old son Asher told the outlet, "I don't know what my life would be like now." 
(Originally published March 13, 2019 at 8 a.m. PT)


[ad_2]

Source link